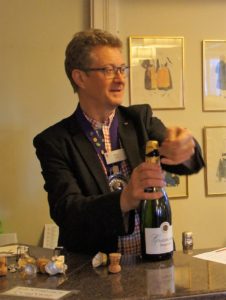 The IT engineer that got interested in wine.
Prentavin started as a vision of discovering quality wine and specially quality sparkling wine and communicate that to wine interested and wine lovers i Sweden.
As a member of Munskänkarna wine club, the Magazine Munskänken became the first focal point of communication. However Munskänkarna also has a social media, a Facebook group. Presentations and wine tastings are occasionally done.  Eric Stein also lectures at Munskänkarna wine educations.
German wine has discovered my knowledge about German quality Sekt and has become an important relation.
Now member of the Swedish Wine Writers Association.
Participated in the Swedish shampionship in blindtasting for team Winewriters.
By the way I also have a second leg, IT project management, in particular PMO establishment and recovery to get control of a Project Portfolio.
Prentavin AB
Address: Åkerövägen 12; 79333 Leksand
E-mail eric.stein@prentavin.se
Youtube Eric Stein Crémant
+46709988799